Wiring/ Integration
Main activities
Presentation of the subsidiary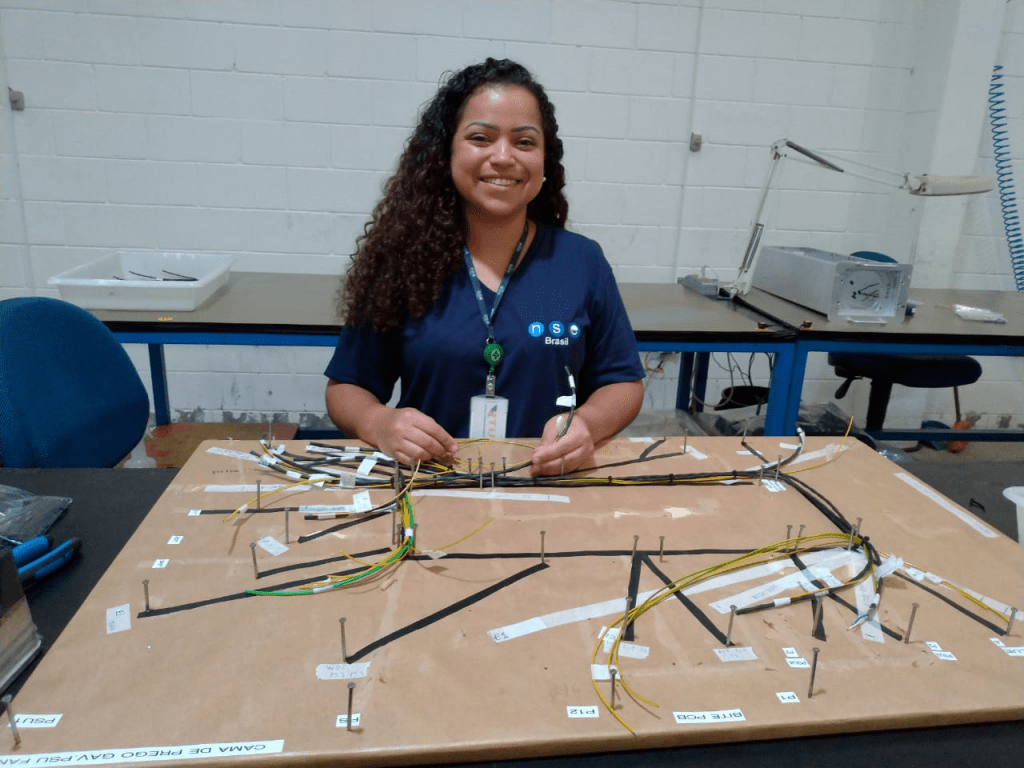 Established in Brasil since March 2011, NSE Brasil is ideally located between Sao Paulo and Rio de Janeiro, in the heart of the country's aerospace and defence industry.
It relies on about twenty highly qualified employees, spread over a 550 m² production area.
With the support of the NSE Group, its areas of activity are as follows :
Design, manufacturing and repair of cables and harnesses.
Integration of racks and on-board electronic consoles.
Instrument maintenance.
Logistics support for electronic products.
The subsidiary NSE Brasil mainly addresses the Aerospace, Defence and Railway sectors.
With AS9100 certification, NSE Brasil has also been recognised by ANAC (National Civil Aviation Agency) as a maintenance organisation in accordance with the requirements of RBAC 145.
The certificate issued by ANAC includes the capacity of NSE Brasil to repair, maintain and test aeronautical wiring.
Contacts
Cintia TRENTINI
NSE Brasil Director
ctrentini@nse-groupe.com
Mathieu FORGET
International Development Manager For Subsidiaries
mforget@nse-groupe.com
Adress
NSE Brasil
Rod. Geraldo Scavone, 2080
Jacareí - SP - CEP 12305-490
Since 1983, NSE has specialised in the development and implementation of on-board wiring systems, adapted to severe environments. Thanks to the variety of our skills, we are able to accompany our customers throughout the life cycle of cables and integrated electrical equipment, with a complete range of services in study, prototyping, tests and qualification, pre-series and series production, installation and repair stages.

| | |
| --- | --- |
| Market : | Defense |
| Field/Job : | Air defense, Civil aeronautics, Defence aeronautics, Earth defense, Industry, Integration, Railway, Sea defense, Wiring |
| Subsidiary(s) : | Brazil, Canada, France, India Hical NSE, Morocco |

28 000

Item delivered/year

NSE plays a major role in the design and integration of on-board systems and complex wired structures. Thanks to our technical expertise and our ability to adapt, we offer Build-To-Print & Build-To-Spec solutions in Defence, Aerospace, Transport & Industry sectors, with a complete range of services: design, prototyping, testing and qualification, pre-series and series production.

| | |
| --- | --- |
| Market : | Defense |
| Field/Job : | Air defense, Civil aeronautics, Defence aeronautics, Earth defense, Industry, Integration, Railway, Sea defense |
| Subsidiary(s) : | Brazil, Canada, France, India Hical NSE, Morocco |