Subsidiaries
NSE Automatech
AS9100 - ISO13485 - FDA
Certifications
Presentation of subsidiary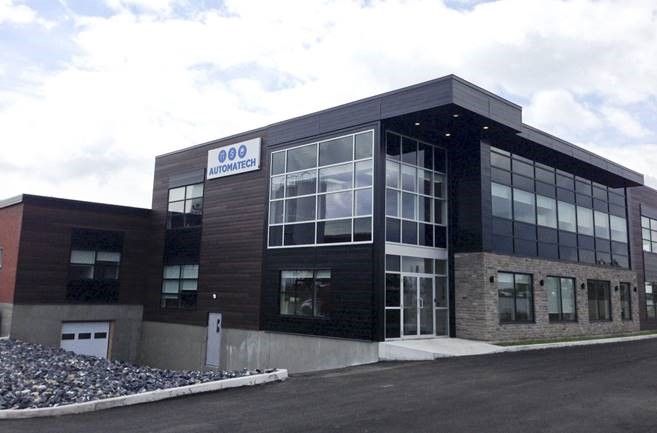 NSE Automatech is the high precision machining entity of the NSE Group located on the Granby site, among other things. Its industrial capacity covers hard metals (titanium, steel, stainless and inconel) and large structural components.
Since 2018, NSE Automatech has a chemical and paint treatment plant of more than 750 m². In 2020, this plant obtained NADCAP certification.
On its 1500 m² Saint Laurent site, NSE Automatech also manufactures electrical harnesses and carries out electromechanical integration. Hence, it is positioned as a one-stop shop for prototyping and production launch (first of series).
Finally, in aeronautic maintenance, we offer a capacity to deploy personnel on site and in the sector
AS9100 revision D, NSE Automatech's vocation is to propose a complete service offer in full autonomy, an offer that ensures the quality and punctuality necessary for the aeronautics manufacturing cycle.
ISO13485 and FDA certified, NSE Automatech also has a strong presence in the medical sector for which it manufactures cables, tools and prostheses.
Website: https://nse-automatech.com/
Contacts
Luc THERRIEN ing. P. eng.
General Manager/CEO - Granby Site
ltherrien@nse-automatech.com
Romain DUSAN
Director - St-Laurent Site
rdusan@nse-automatech.com
Adress Granby site
520 Rutherford
Granby, Québec
Canada J2G 0B2
https://goo.gl/maps/xwtR7LRdbkkr16h39
_______________________________________
Adress St-Laurent site
1560 Rue Beaulac
St-Laurent, Québec
Canada HAR 1W8
Since 1983, NSE has specialised in the development and implementation of on-board wiring systems, adapted to severe environments. Thanks to the variety of our skills, we are able to accompany our customers throughout the life cycle of cables and integrated electrical equipment, with a complete range of services in study, prototyping, tests and qualification, pre-series and series production, installation and repair stages.

| | |
| --- | --- |
| Market : | Defense |
| Field/Job : | Air defense, Civil aeronautics, Defence aeronautics, Earth defense, Industry, Integration, Railway, Sea defense, Wiring |
| Subsidiary(s) : | Brazil, Canada, France, India Hical NSE, Morocco |

28 000

Item delivered/year

NSE plays a major role in the design and integration of on-board systems and complex wired structures. Thanks to our technical expertise and our ability to adapt, we offer Build-To-Print & Build-To-Spec solutions in Defence, Aerospace, Transport & Industry sectors, with a complete range of services: design, prototyping, testing and qualification, pre-series and series production.

| | |
| --- | --- |
| Market : | Defense |
| Field/Job : | Air defense, Civil aeronautics, Defence aeronautics, Earth defense, Industry, Integration, Railway, Sea defense |
| Subsidiary(s) : | Brazil, Canada, France, India Hical NSE, Morocco |

Thanks to the experience in aeronautical wiring on military aircraft, in 2007 NSE started, the avionics retrofit. NSE is a committed and well-known player in the defence sector in France and internationally.

| | |
| --- | --- |
| Market : | Defense |
| Field/Job : | Air defense, Defence aeronautics, Services |
| Subsidiary(s) : | Canada, France, Morocco |

830

Staff projections in France and abroad

+150

Modifications carried out on aircraft